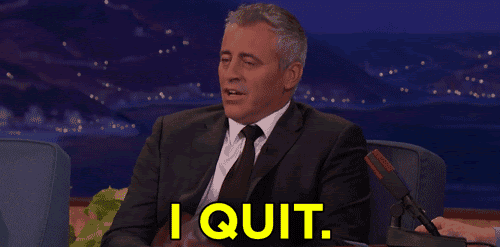 Sometimes new information or changes in circumstances come up which affect your ability or willingness to carry through with buying a home, even after all parties have already signed the purchase agreement. When that happens, you may wonder, "Can I back out of buying a house before closing?" The answer is yes – but there are costs to doing so.
Technically speaking, you can back out of buying a house at any point before signing loan documents and title documents that assign ownership, though there are costs and effectively a penalty to doing so beyond certain points.
You can back out of buying a house either:
Before all contingencies are removed
Many purchase contracts come with contingencies, the most common of which are inspection, appraisal, and loan contingencies. They are designed to protect the buyer by allowing them a specified amount of time to conduct additional inspections and/or confirm their funding. If there is no issue, each contingency is removed or cleared. If an inspection turns up a deal-breaker, the property fails to appraise, or the loan falls through, the relevant contingency allows the buyer to walk away without any penalty, meaning they can retain the deposit they paid.
After all the contingencies are removed.
If a buyer ends up canceling a transaction for a reason after their contingency period expires, they are considered in breach of contract, because otherwise, the contract would have gone forward. In this case, the seller is entitled to claim the deposit paid to escrow.
What is this earnest money deposit, and why does the seller get to keep it?
Preparing a house to go on the market is time and cost-consuming, and no seller wants to enter into a contract with a buyer, only to see them pull out after a few weeks. The time under contract turns into wasted time, the seller now needs to pay for several more weeks' worth of property taxes or existing mortgage they were not planning to, and the market may have shifted against the buyer during that period. Additionally, the home will have a listing record showing that it went into a contract but the sale was terminated. Some cautious buyers may be predisposed to think there might have been an issue with the home, which may depress interest in the house when it comes back on the market.
For these reasons, it is customary for a buyer to show their good faith, or express their earnestness, by making a deposit which the seller can claim if the buyer fails to perform and complete their side of the contract. The earnest money deposit is usually paid to the escrow company that is handling the transaction and is counted as part of the down payment.
What's the downside to backing out of buying a house after going into a contract?
Putting all of this together, the downside of backing out of buying a house is determined by when you do so. If you back out before you remove contingencies, you will have lost time, emotional energy, and any money you may have spent on inspections, but you will at least be able to keep your earnest money deposit. However, if you pull out after the contingencies have been removed, you will not only lose out on time and energy, you will also likely lose your deposit, which may make up a significant portion of your down payment funds.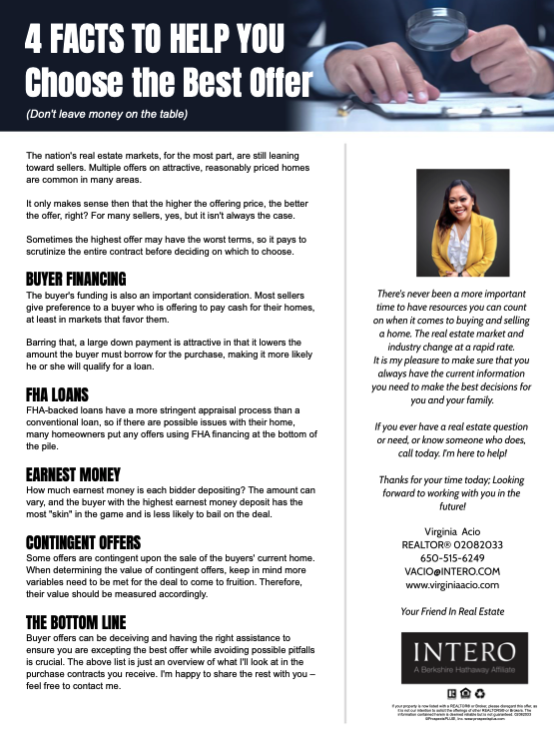 4 FACTS TO HELP YOU CHOOSE THE BEST OFFER
Don't Leave Money On the Table
Click the link above for details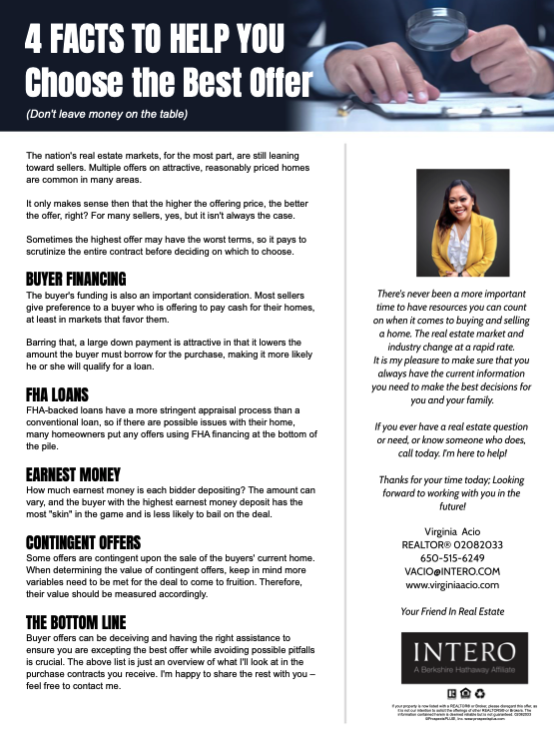 Good morning Friends!
Despite a pandemic and wildfires, Bay real estate markets are hot — leaving realtors to believe the 'exodus' is overblown.
You may have heard people are fleeing California — fed up with fires, smoke, and tiny apartments during a pandemic — especially those who can work remotely,
but real estate experts agree: The notion of a mass California exodus has been overhyped.
Yes, rents have dropped in pandemic-era San Francisco, but less so in the East Bay and other areas of the region that allow people more space — suggesting most people are moving within the Bay, not out of it.
Additionally, in terms of home sales, the market remains robust, even reaching new heights.
The median price for a single-family home in the Bay Area reached a record high of $1,068,000 in August, up 18.7% over a year earlier.
That increase reflects both actual appreciation and a shift toward higher-dollar transactions that skew the median figure.
If you or anyone you know is thinking about buying or selling, call me anytime. I'm here to help!
All in one page are your county's housing trends at a glance. Indicators provided are sales, median prices, inventory indicators, and so much more! 
 What is Your Home Worth?
Click HERE to Check current market values for your home and view profiles of potential buyers.
Neighborhood News
Click HERE to stay connected to what's happening in the real estate market in your area.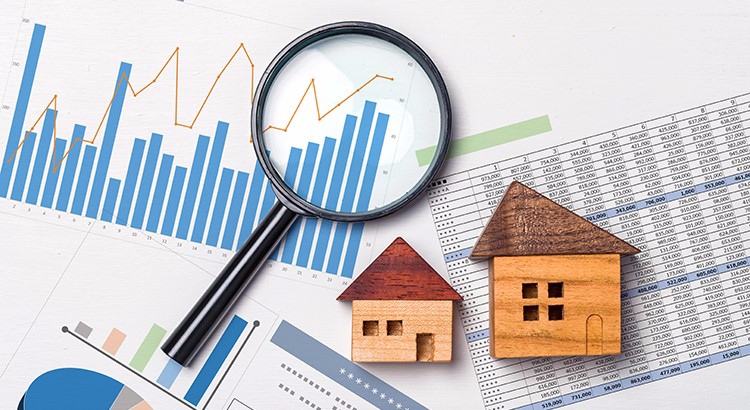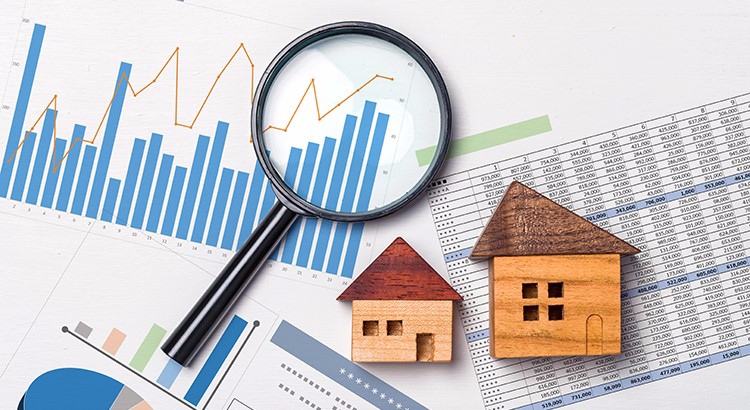 As shelter-in-place orders were implemented earlier this year, many questioned what the shutdown would mean to the real estate market. Specifically, there was concern about home values. After years of rising home prices, would 2020 be the year this appreciation trend would come to a screeching halt? Even worse, would home values begin to depreciate?
Original forecasts modeled this uncertainty, and they ranged anywhere from home values gaining 3% (Zelman & Associates) to home values depreciating by more than 6% (CoreLogic).
However, as the year unfolded, it became clear that there would be little negative impact on the housing market. As Mark Fleming, Chief Economist at First American, recently revealed:
"The only major industry to display immunity to the economic impacts of the coronavirus is the housing market."
Have prices continued to appreciate so far this year?
Last week, the Federal Housing Finance Agency (FHFA) released its latest Home Price Index. The report showed home prices actually rose 6.5% from the same time last year. FHFA also noted that price appreciation accelerated to record levels over the summer months:
"Between May & July 2020, national prices increased by over 2%, which represents the largest two-month price increase observed since the start of the index in 1991."
What are the experts forecasting for home prices going forward?
Below is a graph of home price projections for the next year. Since the market has changed dramatically over the last few months, this graph shows forecasts that have been published since September 1st.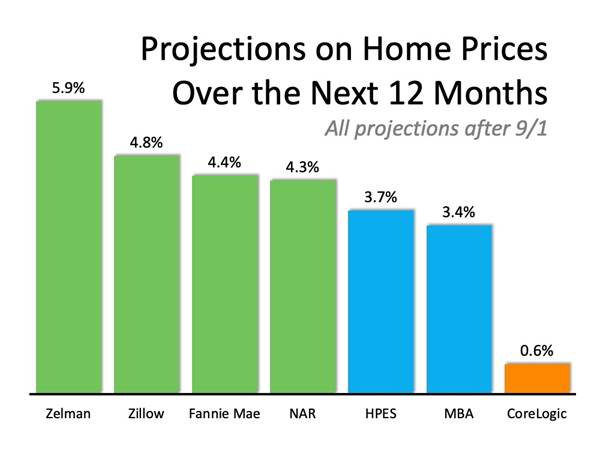 Bottom Line
The numbers show that home values have weathered the storm of the pandemic. Let's connect if you want to know what your home is currently worth and how that may enable you to make a move this year.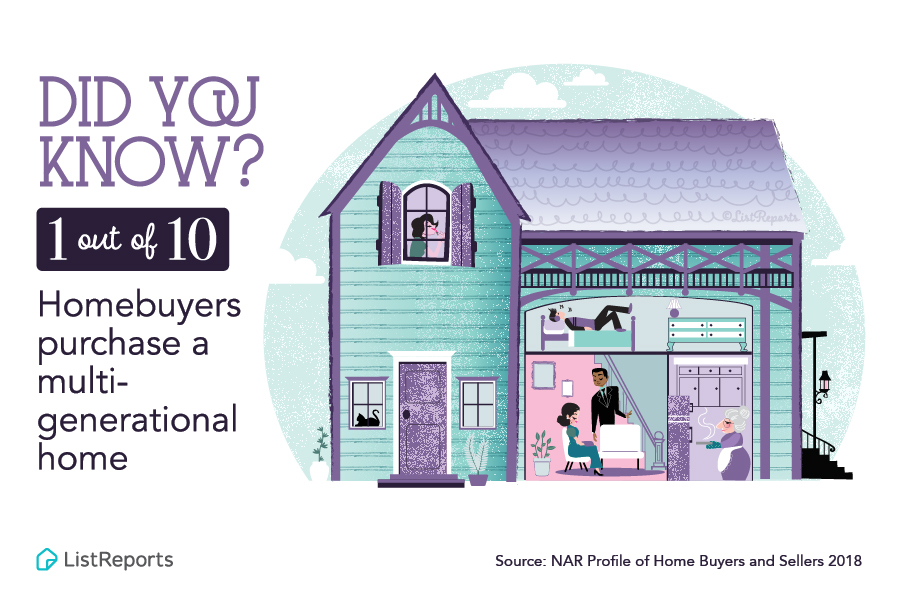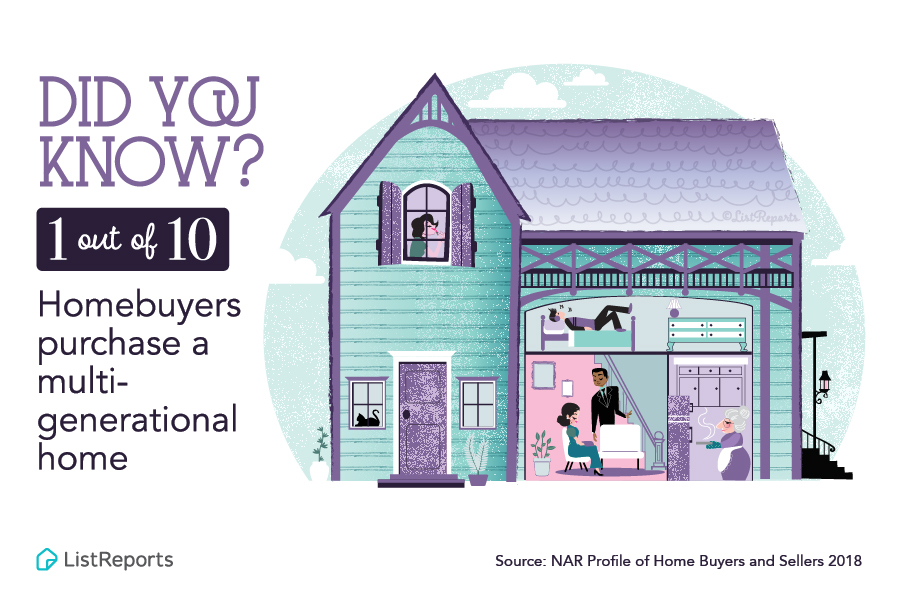 Whether you're looking for a big home for everyone or a place to call your very own, I can help you find it. Message me today!
Contact Virginia 650-667-0587
📧 vacio@intero.com for more info
Virginia Acio
#02082033
INTERO Real Estate Services
#upgrade #HouseHunting #RealEstate #RealEstateAgent #realtor #homesweethome #vaciorealty #YourFriendInRealEstate