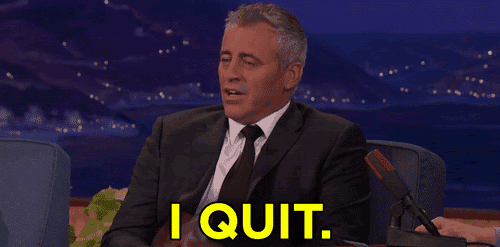 Sometimes new information or changes in circumstances come up which affect your ability or willingness to carry through with buying a home, even after all parties have already signed the purchase agreement. When that happens, you may wonder, "Can I back out of buying a house before closing?" The answer is yes – but there are costs to doing so.
Technically speaking, you can back out of buying a house at any point before signing loan documents and title documents that assign ownership, though there are costs and effectively a penalty to doing so beyond certain points.
You can back out of buying a house either:
Before all contingencies are removed
Many purchase contracts come with contingencies, the most common of which are inspection, appraisal, and loan contingencies. They are designed to protect the buyer by allowing them a specified amount of time to conduct additional inspections and/or confirm their funding. If there is no issue, each contingency is removed or cleared. If an inspection turns up a deal-breaker, the property fails to appraise, or the loan falls through, the relevant contingency allows the buyer to walk away without any penalty, meaning they can retain the deposit they paid.
After all the contingencies are removed.
If a buyer ends up canceling a transaction for a reason after their contingency period expires, they are considered in breach of contract, because otherwise, the contract would have gone forward. In this case, the seller is entitled to claim the deposit paid to escrow.
What is this earnest money deposit, and why does the seller get to keep it?
Preparing a house to go on the market is time and cost-consuming, and no seller wants to enter into a contract with a buyer, only to see them pull out after a few weeks. The time under contract turns into wasted time, the seller now needs to pay for several more weeks' worth of property taxes or existing mortgage they were not planning to, and the market may have shifted against the buyer during that period. Additionally, the home will have a listing record showing that it went into a contract but the sale was terminated. Some cautious buyers may be predisposed to think there might have been an issue with the home, which may depress interest in the house when it comes back on the market.
For these reasons, it is customary for a buyer to show their good faith, or express their earnestness, by making a deposit which the seller can claim if the buyer fails to perform and complete their side of the contract. The earnest money deposit is usually paid to the escrow company that is handling the transaction and is counted as part of the down payment.
What's the downside to backing out of buying a house after going into a contract?
Putting all of this together, the downside of backing out of buying a house is determined by when you do so. If you back out before you remove contingencies, you will have lost time, emotional energy, and any money you may have spent on inspections, but you will at least be able to keep your earnest money deposit. However, if you pull out after the contingencies have been removed, you will not only lose out on time and energy, you will also likely lose your deposit, which may make up a significant portion of your down payment funds.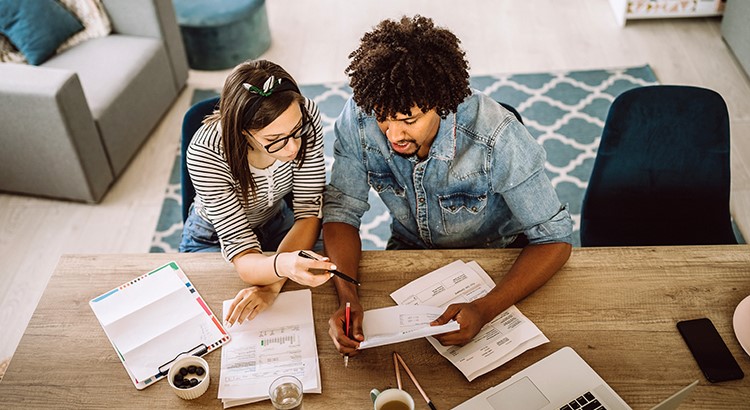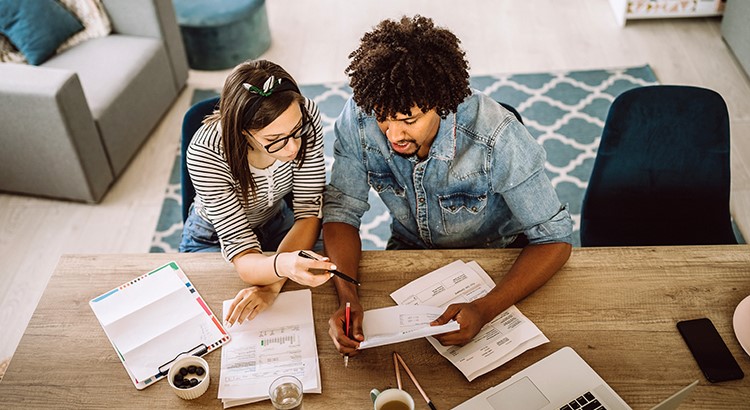 One of the biggest misconceptions for first-time homebuyers is how much you'll need to save for a down payment. Contrary to popular belief, you don't always have to put 20% down to buy a house. Here's how it breaks down.
A recent survey by Point2Homes mentions that 74% of millennials (ages 25-40) say they're interested in purchasing a home over the next 12 months. The study notes, "88% say they have significantly less savings than the average national down payment amount, which is $62,600."
Thankfully, $62,600 is not the amount every buyer needs for a down payment in the United States. There are many different options available, especially for first-time homebuyers (millennial or not). That amount can also be significantly less, depending on the purchase price of the house.
According to the National Association of Realtors (NAR), "The median existing-home price for all housing types in August was $310,600." (These are the latest numbers available). NAR also indicates that:
"In 2019, the median down payment was 12 percent for all buyers, six percent for first-time buyers, and 16 percent for repeat buyers." (See graph below):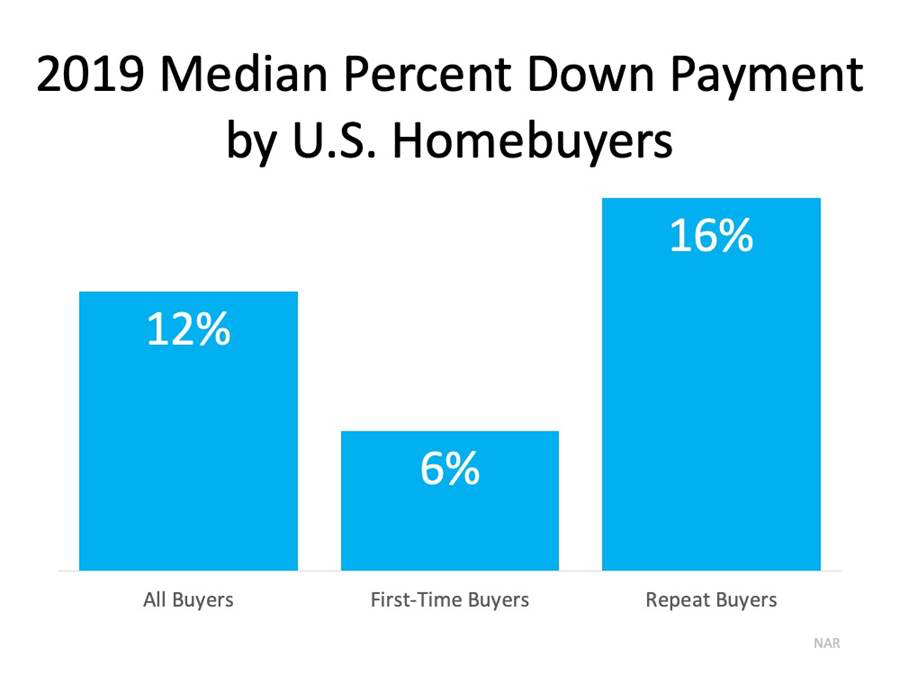 That means if a qualified first-time buyer purchases a home at today's median price, $310,600, with a 6% down payment, in reality, the down payment only amounts to $18,636. That's nowhere near $62,600.
Knowing there are also programs like FHA where the down payment can be as low as 3.5% of the purchase price for a first-time buyer, that up-front cost could be significantly less – as little as $10,871 for the same home noted above. There are also other programs like USDA and loans for Veterans that waive down payment requirements.
The Point2Homes study also shares how much millennials have indicated they've saved for a down payment. As we can see in the graph below, 39% have already saved enough for a down payment on a median-priced home. Another 47% are close to reaching that goal, depending on the purchase price of the home.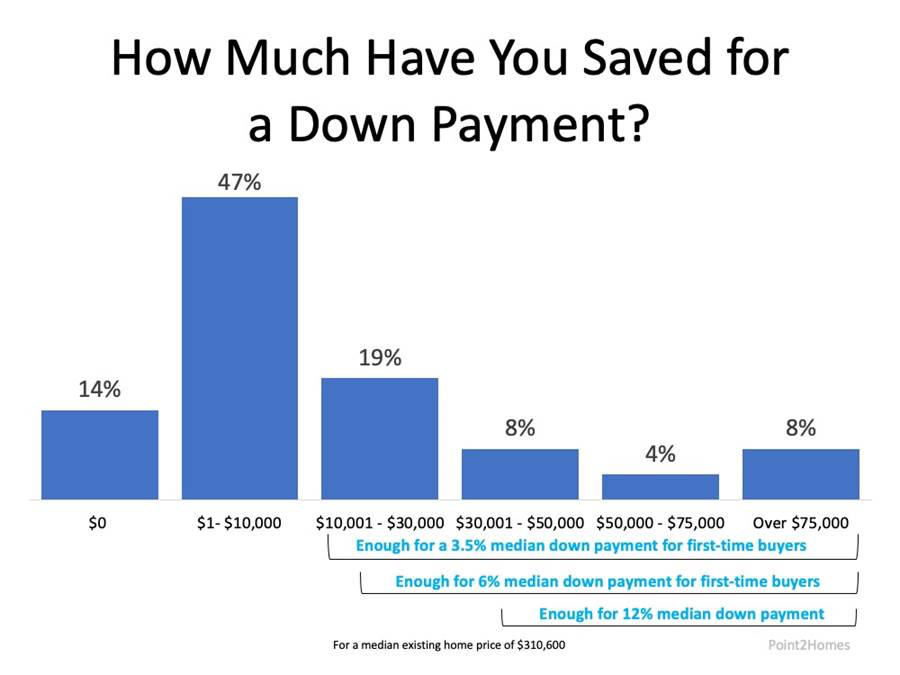 Unfortunately, the lack of knowledge about the homebuying process is keeping many motivated first-time buyers on the sidelines. That's why it's important to contact a local real estate professional to understand the requirements in your local area if you want to buy a home. A trusted agent and your lender can guide you through the process.
Bottom Line
Be careful not to let big myths about homebuying keep you and your family out of the housing market. Let's connect to discuss your options today!