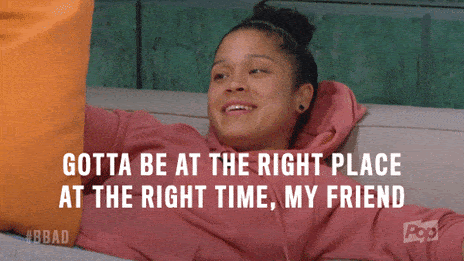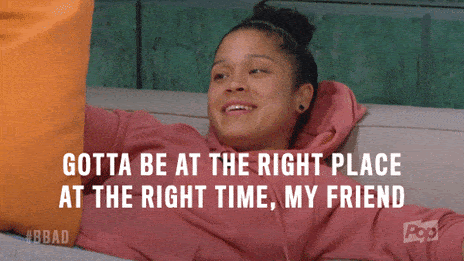 Home prices have a tendency to follow seasonal patterns; if these persist in the future, you can use them to your advantage to avoid overpaying.
So, when is the worst time to buy a home?
Home prices typically peak in the spring
In 2019 (the most recent full-year not impacted by the pandemic), US single-family existing home inventory peaked in June (1.70mm homes), as did prices ($289k median home price). This implies if you want the highest number of options, June is the best month.
However, that was also the peak month for home prices in 2019, and prices fell for four straight months after that, bottoming in October 2019 at $274k. They did not permanently surpass that peak for an entire year, reaching $298k in June 2020.
By this metric, June 2019 was the worst, as there were 11 subsequent months when home prices were virtually flat or lower.
The best months were a tie between October 2019, November 2019, and December 2019, when home prices ranged from $274k – $277k; there were only two further months, January 2020 and February 2020, in which home prices kept falling; by March 2020, they were at $283k, above late 2019 levels, and they never looked back.
Why do home prices peak at the end of spring?
This likely results from the rush of buyers that are most comfortable moving around the end of the school year and before the next school year starts.
They are willing to overpay for the convenience of moving when it is least disruptive to their family's lives.
While you may share this desire to maximize the convenience factor, you should carefully consider joining in this buying frenzy if you want to make the best possible financial decision.
If you had waited until October 2019 to buy instead of June 2019, you would have seen a 5.1% drop in home prices that could have saved you a lot of money on your purchase, and inventory levels of 1.56mm might still have been high enough to yield attractive choices, beating out the inventory levels from the beginning of the year (Jan 2019 – March 2019, all <1.5mm), and November 2019 until today (inventory dropped to 1.45mm in November 2019, and has remained <1.5mm since then, falling even further to <1.1mm in November 2020 all the way through the latest month June 2021!).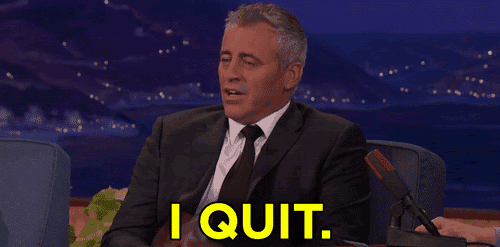 Sometimes new information or changes in circumstances come up which affect your ability or willingness to carry through with buying a home, even after all parties have already signed the purchase agreement. When that happens, you may wonder, "Can I back out of buying a house before closing?" The answer is yes – but there are costs to doing so.
Technically speaking, you can back out of buying a house at any point before signing loan documents and title documents that assign ownership, though there are costs and effectively a penalty to doing so beyond certain points.
You can back out of buying a house either:
Before all contingencies are removed
Many purchase contracts come with contingencies, the most common of which are inspection, appraisal, and loan contingencies. They are designed to protect the buyer by allowing them a specified amount of time to conduct additional inspections and/or confirm their funding. If there is no issue, each contingency is removed or cleared. If an inspection turns up a deal-breaker, the property fails to appraise, or the loan falls through, the relevant contingency allows the buyer to walk away without any penalty, meaning they can retain the deposit they paid.
After all the contingencies are removed.
If a buyer ends up canceling a transaction for a reason after their contingency period expires, they are considered in breach of contract, because otherwise, the contract would have gone forward. In this case, the seller is entitled to claim the deposit paid to escrow.
What is this earnest money deposit, and why does the seller get to keep it?
Preparing a house to go on the market is time and cost-consuming, and no seller wants to enter into a contract with a buyer, only to see them pull out after a few weeks. The time under contract turns into wasted time, the seller now needs to pay for several more weeks' worth of property taxes or existing mortgage they were not planning to, and the market may have shifted against the buyer during that period. Additionally, the home will have a listing record showing that it went into a contract but the sale was terminated. Some cautious buyers may be predisposed to think there might have been an issue with the home, which may depress interest in the house when it comes back on the market.
For these reasons, it is customary for a buyer to show their good faith, or express their earnestness, by making a deposit which the seller can claim if the buyer fails to perform and complete their side of the contract. The earnest money deposit is usually paid to the escrow company that is handling the transaction and is counted as part of the down payment.
What's the downside to backing out of buying a house after going into a contract?
Putting all of this together, the downside of backing out of buying a house is determined by when you do so. If you back out before you remove contingencies, you will have lost time, emotional energy, and any money you may have spent on inspections, but you will at least be able to keep your earnest money deposit. However, if you pull out after the contingencies have been removed, you will not only lose out on time and energy, you will also likely lose your deposit, which may make up a significant portion of your down payment funds.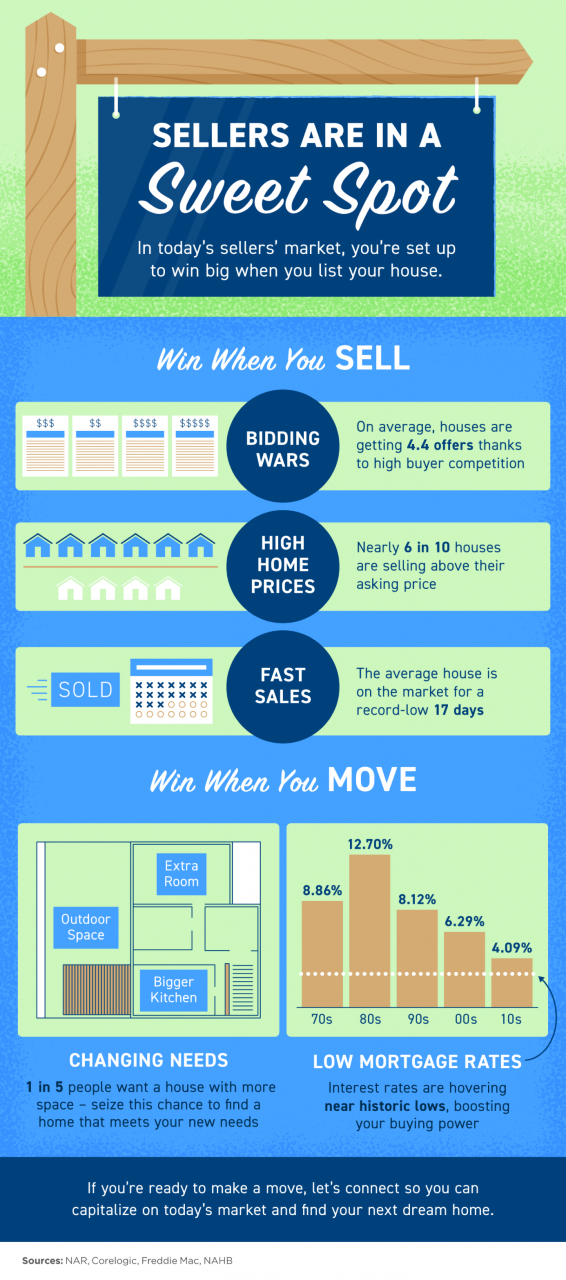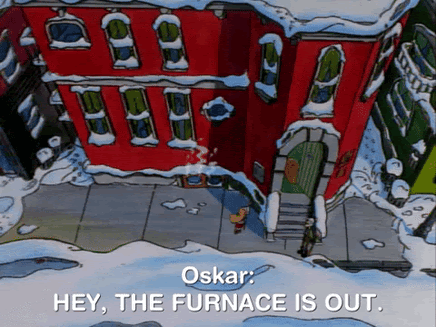 We're back with our list of things that you should look out for when buying a new home.
Today, we'll highlight why you need to check for an old furnace and/or HVAC system.
Another key system of a home, HVAC and heating systems are crucially important, especially when temperatures drop or spike.
Most modern furnaces have an operating life of 20 -30 years before they begin to fail and need to be replaced.
As with other items in this list, carefully review the disclosures, (including any home inspections) and permit information to see the condition (and age, if an estimate is provided) of the furnace and HVAC systems, and if a furnace was replaced within the last 20 years.
If you don't see any indications that the furnace was replaced, or the reports indicate the furnace is getting on in years, you should expect to potentially need to service or replace the furnace in the next decade.
See what people are saying about me!
What is Your Home Worth? Check current market values for your home and view profiles of potential buyers.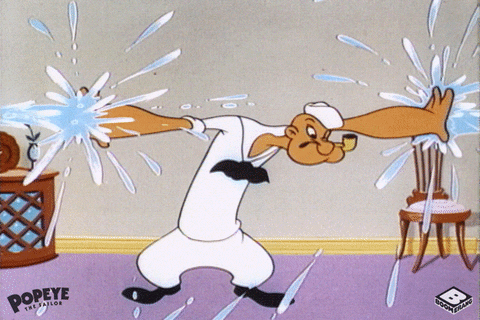 Today, we'll highlight why you need to check the pipes of the home you're intending to buy.
Depending on the age of a home and the material, the pipes that serve the home may be outdated and require replacement. Old pipes that have deteriorated may start to leak or burst, leading to water damage and even unsanitary health hazards. The most common culprit is galvanized steel piping, which was commonly used in homes built prior to 1960 for water supply lines, and have an average lifespan of 40 years. Copper pipes have been the standard for residential home use since the 1960s and have a lifespan that can reach beyond 50 years.
When considering a home, especially one that is at least 30 years old, or built before the 1960s, you should review the disclosures (especially any home inspection report) and any permit information to see if there are any outdated piping or history of leaks and if the plumbing has been replaced or updated at any time.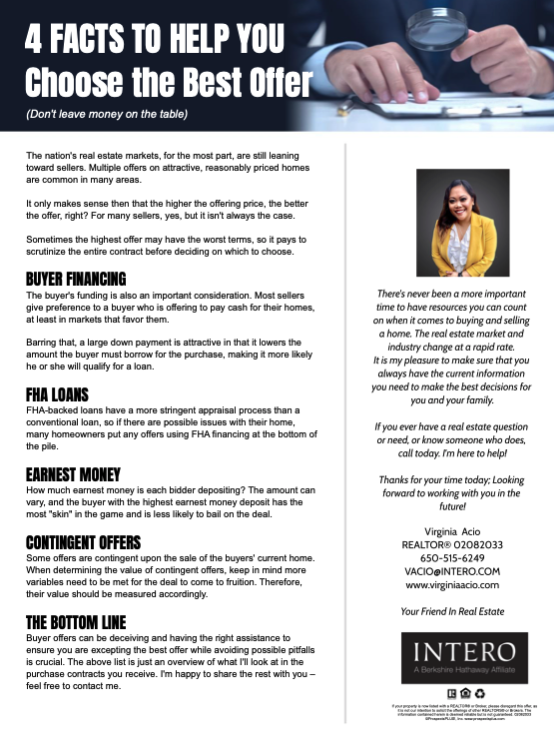 4 FACTS TO HELP YOU CHOOSE THE BEST OFFER
Don't Leave Money On the Table
Click the link above for details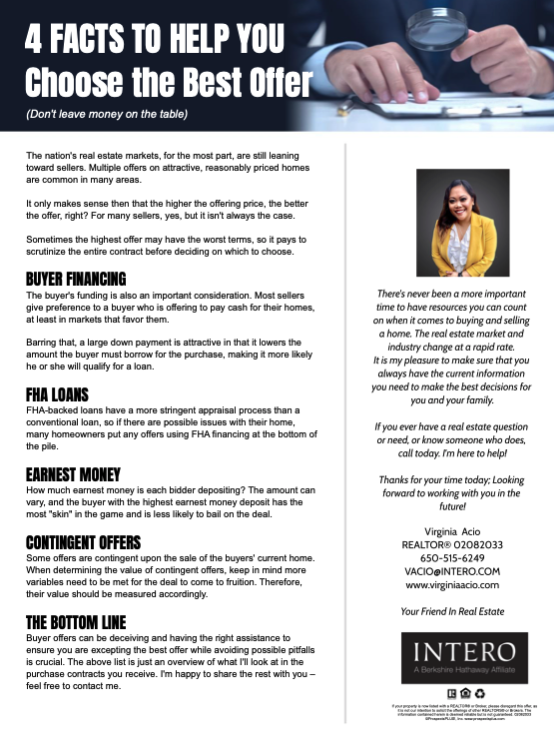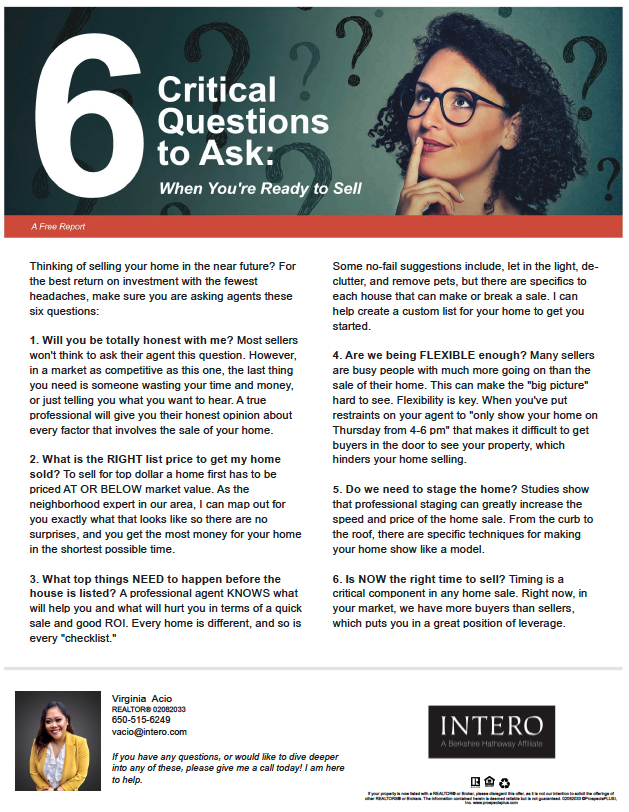 Thinking of selling your home in the near future?
For the best return on investment with the fewest headaches, make sure you're asking agents these six questions: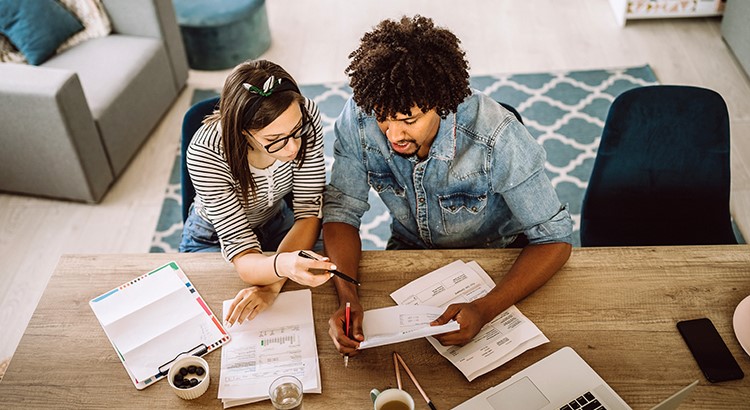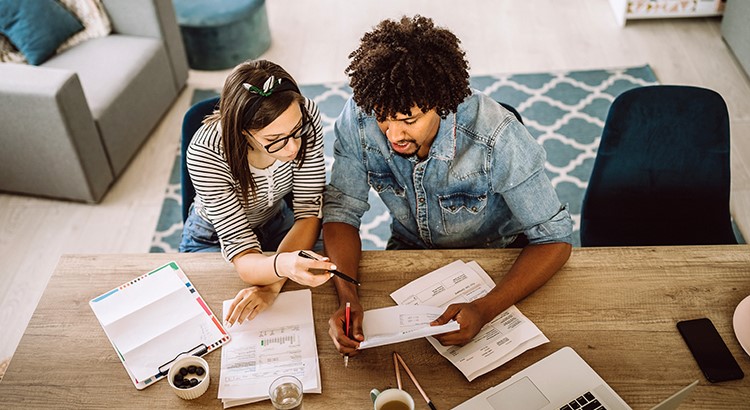 One of the biggest misconceptions for first-time homebuyers is how much you'll need to save for a down payment. Contrary to popular belief, you don't always have to put 20% down to buy a house. Here's how it breaks down.
A recent survey by Point2Homes mentions that 74% of millennials (ages 25-40) say they're interested in purchasing a home over the next 12 months. The study notes, "88% say they have significantly less savings than the average national down payment amount, which is $62,600."
Thankfully, $62,600 is not the amount every buyer needs for a down payment in the United States. There are many different options available, especially for first-time homebuyers (millennial or not). That amount can also be significantly less, depending on the purchase price of the house.
According to the National Association of Realtors (NAR), "The median existing-home price for all housing types in August was $310,600." (These are the latest numbers available). NAR also indicates that:
"In 2019, the median down payment was 12 percent for all buyers, six percent for first-time buyers, and 16 percent for repeat buyers." (See graph below):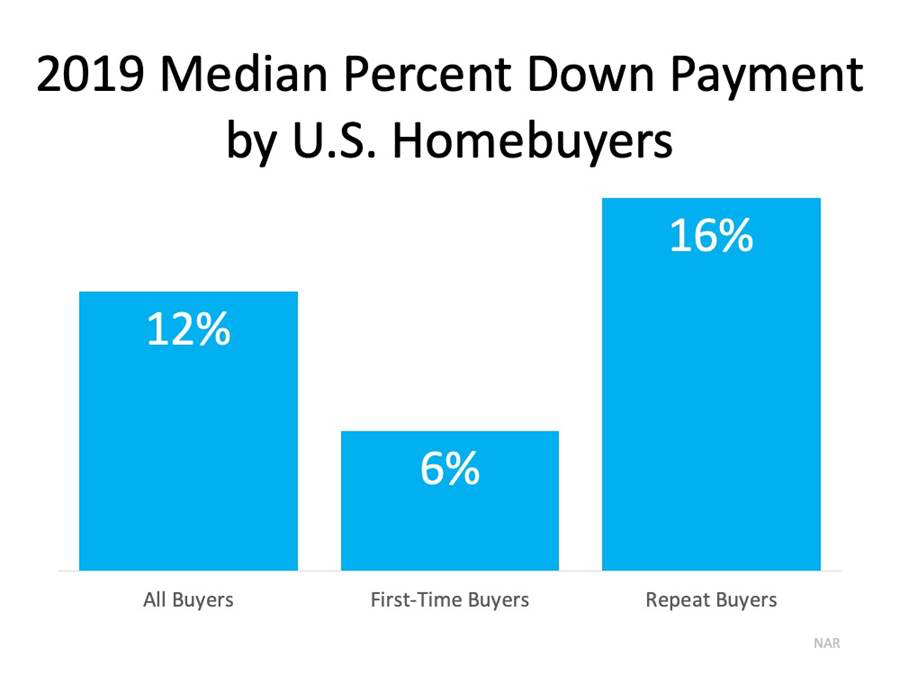 That means if a qualified first-time buyer purchases a home at today's median price, $310,600, with a 6% down payment, in reality, the down payment only amounts to $18,636. That's nowhere near $62,600.
Knowing there are also programs like FHA where the down payment can be as low as 3.5% of the purchase price for a first-time buyer, that up-front cost could be significantly less – as little as $10,871 for the same home noted above. There are also other programs like USDA and loans for Veterans that waive down payment requirements.
The Point2Homes study also shares how much millennials have indicated they've saved for a down payment. As we can see in the graph below, 39% have already saved enough for a down payment on a median-priced home. Another 47% are close to reaching that goal, depending on the purchase price of the home.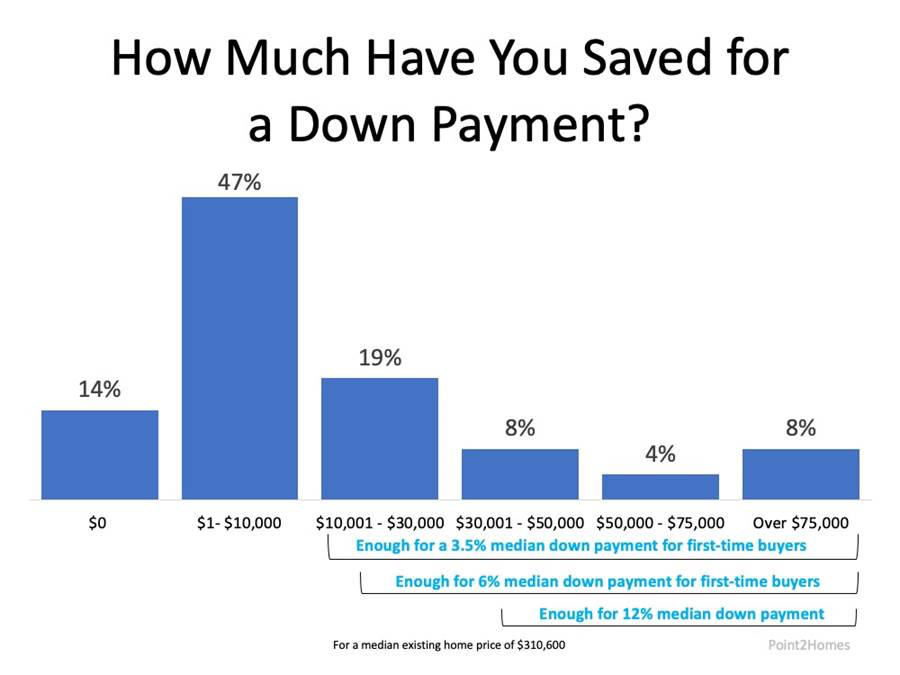 Unfortunately, the lack of knowledge about the homebuying process is keeping many motivated first-time buyers on the sidelines. That's why it's important to contact a local real estate professional to understand the requirements in your local area if you want to buy a home. A trusted agent and your lender can guide you through the process.
Bottom Line
Be careful not to let big myths about homebuying keep you and your family out of the housing market. Let's connect to discuss your options today!
Good morning Friends!
Despite a pandemic and wildfires, Bay real estate markets are hot — leaving realtors to believe the 'exodus' is overblown.
You may have heard people are fleeing California — fed up with fires, smoke, and tiny apartments during a pandemic — especially those who can work remotely,
but real estate experts agree: The notion of a mass California exodus has been overhyped.
Yes, rents have dropped in pandemic-era San Francisco, but less so in the East Bay and other areas of the region that allow people more space — suggesting most people are moving within the Bay, not out of it.
Additionally, in terms of home sales, the market remains robust, even reaching new heights.
The median price for a single-family home in the Bay Area reached a record high of $1,068,000 in August, up 18.7% over a year earlier.
That increase reflects both actual appreciation and a shift toward higher-dollar transactions that skew the median figure.
If you or anyone you know is thinking about buying or selling, call me anytime. I'm here to help!
All in one page are your county's housing trends at a glance. Indicators provided are sales, median prices, inventory indicators, and so much more! 
 What is Your Home Worth?
Click HERE to Check current market values for your home and view profiles of potential buyers.
Neighborhood News
Click HERE to stay connected to what's happening in the real estate market in your area.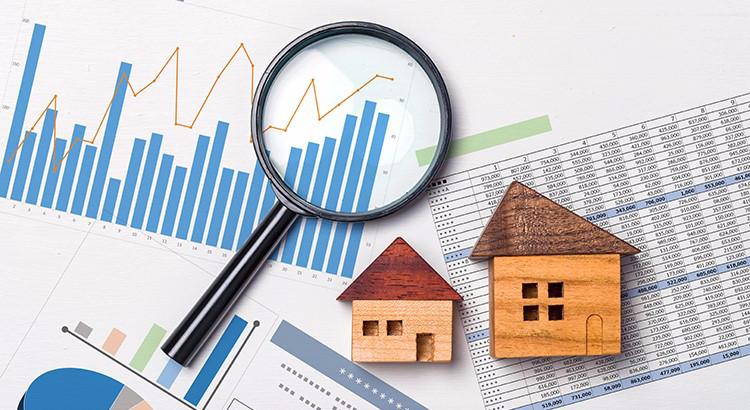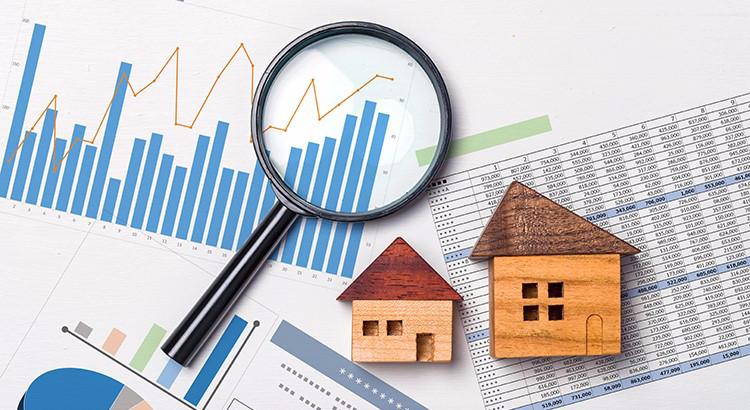 As shelter-in-place orders were implemented earlier this year, many questioned what the shutdown would mean to the real estate market. Specifically, there was concern about home values. After years of rising home prices, would 2020 be the year this appreciation trend would come to a screeching halt? Even worse, would home values begin to depreciate?
Original forecasts modeled this uncertainty, and they ranged anywhere from home values gaining 3% (Zelman & Associates) to home values depreciating by more than 6% (CoreLogic).
However, as the year unfolded, it became clear that there would be little negative impact on the housing market. As Mark Fleming, Chief Economist at First American, recently revealed:
"The only major industry to display immunity to the economic impacts of the coronavirus is the housing market."
Have prices continued to appreciate so far this year?
Last week, the Federal Housing Finance Agency (FHFA) released its latest Home Price Index. The report showed home prices actually rose 6.5% from the same time last year. FHFA also noted that price appreciation accelerated to record levels over the summer months:
"Between May & July 2020, national prices increased by over 2%, which represents the largest two-month price increase observed since the start of the index in 1991."
What are the experts forecasting for home prices going forward?
Below is a graph of home price projections for the next year. Since the market has changed dramatically over the last few months, this graph shows forecasts that have been published since September 1st.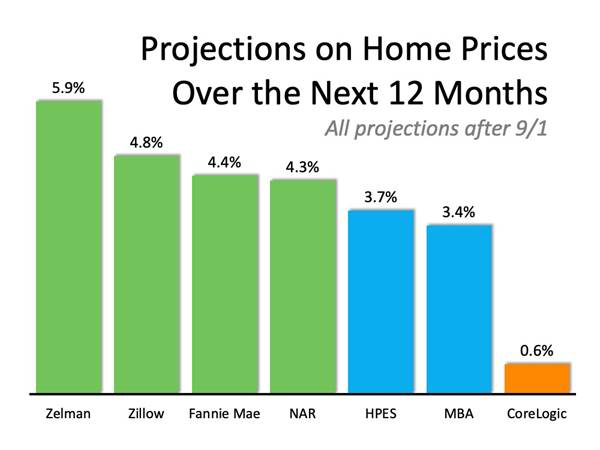 Bottom Line
The numbers show that home values have weathered the storm of the pandemic. Let's connect if you want to know what your home is currently worth and how that may enable you to make a move this year.